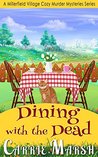 Cozy Mystery: Dining With The Dead
by
Carrie Marsh
My rating:
5 of 5 stars
Review of DINING WITH THE DEAD by Carrie Marsh
(Millerfield Village Cozy Mysteries)
A delightfully tenderhearted "sweet cozy," DINING WITH THE DEAD is part of the Millerfield Village Cozy Mysteries Series, but functions well on its own, so you needn't have read others in the series to enjoy this. Laura Howcroft had left Cambridge to work as restaurant manager at a village hotel, where she is popularly considered a "foreigner," an outsider, and mistrusted, especially after another "foreigner," a hotel visitor, is discovered in the very early morning, deceased in the restaurant Laura manages. Intrepid Laura puts aside her hurt feelings and becomes an anonymous amateur investigator. On the technical side she is aided by Dr. Lucas; she also has her cat Monty, with whom she communicates (an especially pleasant aspect of this story!). As Laura discovers, greed can make a murderer, and her life is on the line as well when she unravels the facts behind the death.
View all my reviews