Picture Not Perfect (The Not So Reluctant Detectives)
by D.E. Haggerty
About the Book
 
Picture Not Perfect (The Not So Reluctant Detectives)
Cozy Mystery/Romance/Humor
2nd in Series
Self Published (January 21, 2019)
Print Length: 230 pages
ASIN: B07KG6ZH33
A picture tells a story. But is it the truth?

When the police find pictures of Melanie hanging up at her murdered colleague's house, they're convinced he was stalking her. Maybe she even killed him. Melanie was not being stalked! And she certainly didn't kill her supposed stalker – as if. But Mel – always up for a bit of drama – jumps at the chance to go search for the real killer. When Mel's ex-boyfriend, Owen, discovers her plans, he pulls out all the stops to ensure she's safe and to win her back. No matter what happens with the murder investigation, he's not letting her go. With the police setting their sights on Mel, he may need to jeopardize his own career on the police force to protect her.

Will Mel find the real killer before the detectives arrest her for murder?
About the Author
I grew up reading everything I could get my grubby hands on, from my mom's Harlequin romances to Nancy Drew, to Little Women. When I wasn't flipping pages in a library book, I was penning horrendous poems, writing songs no one should ever sing, or drafting stories which have thankfully been destroyed. College and a stint in the U.S. Army came along, robbing me of free time to write and read, although on the odd occasion I did manage to sneak a book into my rucksack between rolled up socks, MRIs, t-shirts, and cold weather gear. After surviving the army experience, I went back to school and got my law degree. I jumped ship and joined the hubby in the Netherlands before the graduation ceremony could even begin. A few years into my legal career, I was exhausted, fed up, and just plain done. I quit my job and sat down to write a manuscript, which I promptly hid in the attic before returning to the law. But practicing law really wasn't my thing, so I quit (again!) and went off to Germany to start a B&B. Turns out running a B&B wasn't my thing either. I polished off that manuscript languishing in the attic before following the husband to Istanbul where I decided to give the whole writer-thing a go. But ten years was too many to stay away from my adopted home. I packed up again and moved to The Hague where, in between tennis matches and failing to save the world, I'm currently working on my next book. I hope I'll always be working on my next book.
Picture Not Perfect
is my fourteenth novel.
Author Links 
Website: http://dehaggerty.wordpress.com
Blog: https://dehaggerty.wordpress.com/category/mymusings/
Facebook: https://www.facebook.com/dehaggerty
Twitter: https://twitter.com/dehaggerty
Instagram: https://www.instagram.com/dehaggerty/
Goodreads: https://www.goodreads.com/author/show/7210211.D_E_Haggerty
Amazon author page: http://www.amazon.com/D.E.-Haggerty/e/B00ECQBURU/
Newsletter signup: http://eepurl.com/bbmdj9
Google+: https://plus.google.com/u/0/+DEHaggerty/posts
Pinterest: http://www.pinterest.com/denahaggerty/
Bookbub author page: https://www.bookbub.com/profile/d-e-haggerty
LinkedIn: https://www.linkedin.com/in/d-e-haggerty-4b49a29/
Purchase Links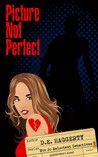 Picture Not Perfect by D.E. Haggerty
My rating: 5 of 5 stars

PICTURE NOT PERFECT is Book 2 of the delightful cozy mystery series NOT SO RELUCTANT DETECTIVE. Book 1 focused mainly on Terri but co-starred her best friend Melanie, school guidance counselor and hyper-active energy-ridden amateur sleuth. PICTURE NOT PERFECT focuses in on Melanie (and Book 3 will take up Pru, new English lit teacher at the high school where Terri is school librarian and Mel is guidance counselor). I re and poalize cozy mysteries are expected to be gentle and subtle, but Ms. Haggerty's are particularly apropos and poignant, it seems to me. PICTURE NOT PERFECT was twisty, angst-ridden for Melanie (and reader), with some hot topic contemporary big issues (stalking and instances of inappopriate or overbearing police behaviour), and I was kept turning the pages rapidly, too engrossed to stop reading.

A teacher at Mel's school dies, and for some inexplicable reasons the detective pair who caught the case are tunnel-visioned on her as the culprit. Sure, the teacher several times asked her out; but he sure wasn't "stalking," she insists, and he never crossed any lines (other than the line of annoyance). No real harm done. But now somebody has committed grievous bodily harm on the teacher, and Mel seems to be the only suspect in the detective's sights. What is a girl going to do?


TOUR PARTICIPANTS
January 21 – My Reading Journeys – REVIEW
January 22 – Mythical Books – GUEST POST
January 23 – Babs Book Bistro – CHARACTER GUEST POST
January 24 – A Blue Million Books – AUTHOR INTERVIEW
January 25 – A Wytch's Book Review Blog – CHARACTER INTERVIEW
January 26 – I'm All About Books – SPOTLIGHT  
January 27 – Mallory Heart's Cozies – REVIEW
January 28 – The Pulp and Mystery Shelf – CHARACTER GUEST POST
January 29 – Mysteries with Character – AUTHOR INTERVIEW
January 29 – StoreyBook Reviews – REVIEW
January 30 – Books Direct - REVIEW, GUEST POST
January 31 – Ruff Drafts – AUTHOR INTERVIEW
February 1 –Christa Reads and Writes – GUEST POST
February 2 – Readeropolis – CHARACTER INTERVIEW
February 3 – Maureen's Musings – SPOTLIGHT
February 3 – Laura`s Interests – SPOTLIGHT
Have you signed up to be a Tour Host? Click Here Find Details and Sign Up Today!