Steamed Open (A Maine Clambake Mystery)
by Barbara Ross
About the Book
Steamed Open (A Maine Clambake Mystery)
Cozy Mystery
7th in Series
Kensington (December 18, 2018)
ISBN-10: 1496717945
ISBN-13: 978-1496717948
Digital ASIN: B07BV3RCDG
It's summertime in Busman's Harbor, Maine, and the clamming is easy—or it was until a mysterious new neighbor blocks access to the beach, cutting off the Snowden Family Clambake's supply. Julia Snowden is just one of many townspeople angered by Bartholomew Frick's decision. But which one of them was angry enough to kill?

Beachcombers, lighthouse buffs, and clammers are outraged after Frick puts up a gate in front of his newly inherited mansion. When Julia urges him to reconsider, she's the last to see him alive—except the person who stabs him in the neck with a clam rake. As she pores through a long list of suspects, Julia meets disgruntled employees, rival heirs, and a pair of tourists determined to visit every lighthouse in America. They all have secrets, and Julia will have to work fast to expose the guilty party—or see this season's clam harvest dry up for good.
About the Author
Barbara Ross is the author of the
Maine Clambake Mysteries
. The first book in the series, Clammed Up was nominated for an Agatha Award for Best Contemporary Novel, the RT Book Reviews, Reviewer's Choice Best Book Award for Amateur Sleuth and was a finalist for the Maine Literary Award for Crime Fiction. She is co-editor/co-publisher of Level Best Books, which produces anthologies of crime stories by New England authors. She writes at her home overlooking the harbor in Boothbay Harbor, Maine. Barbara blogs with the 
Wicked Cozy Authors
 and 
Maine Crime Writers.
Readers can visit her website at
MaineClambakeMysteries.com
.
Purchase Links - Amazon

- B&N 

- Kobo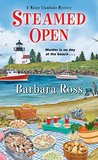 Steamed Open by Barbara Ross
My rating: 5 of 5 stars

One of my favourite aspects of cozy mysteries is being an armchair traveler. While reading, I learn about local customs and color, geography, climate, foods, and all sorts of aspects of a particular location. I also devour any history included. I enjoy reading about Maine and have for decades, so it was pure delight to read Barbara Ross' STEAMED OPEN, with its likable characters (and a few not so, of course), a murder with far too many possible suspects, beautiful antique homes, and of course, Clambakes. STEAMED OPEN is Maine Clambake Mystery #7, a series I definitely want to delve into.


TOUR PARTICIPANTS
January 7 - The Avid Reader – REVIEW
January 7 - Mallory Heart's Cozies – REVIEW
January 7 - Ruff Drafts – SPOTLIGHT, RECIPE
January 8 – Books a Plenty Book Reviews -REVIEW
January 8 – Cozy Up With Kathy – CHARACTER GUEST POST
January 8 – Celticlady's Reviews – SPOTLIGHT
January 9 – Laura`s Interests – REVIEW
January 9 – Readeropolis – SPOTLIGHT, RECIPE
January 9 – A Holland Reads – SPOTLIGHT
January 10 – My Journey Back-The Journey Back – SPOTLIGHT
January 10 – Valerie's Musings – GUEST POST
January 10 – Socrates Book Reviews – SPOTLIGHT
January 11 – Rosepoint Publishing - REVIEW
January 11 – Community Bookstop – REVIEW
January 11 – Brooke Blogs – SPOTLIGHT, RECIPE
January 12 – I'm All About Books – SPOTLIGHT  
January 12 – Reading Is My SuperPower – REVIEW
January 12 – A Wytch's Book Review Blog – REVIEW, CHARACTER INTERVIEW
January 13 – My Reading Journeys – REVIEW
January 13 – Mystery Thrillers and Romantic Suspense Reviews - SPOTLIGHT
Have you signed up to be a Tour Host?
Click Here Find Details and Sign Up Today!